Home Page | Crystal Cove Index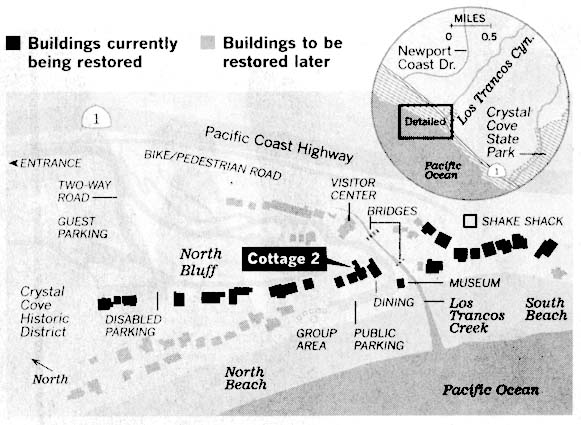 Something Precious in the Sand
Renovation ofthe funky Crystal Cove cottages has begun. Some will be available for rent next year, with a new look retaining the old charm.
[Article from the Los Angeles Times 4-25-04]
By REGINE LABOSSIERE
TIMES STAFF WRITER
Families spanning four or five generations spent their summers partying, swimming and eating on Crystal Cove beach
Laura Davick knows this because hers was one of those families. Her grandparents pitched tents on the beach. That's how her parents met in the summer of 1940, back when people were allowed to camp on the beach.
When Davick, 45, walks around a small enclave of cottages that sprang up at the cove, all of the memories come back. Not only because she grew up there, but because she's been instrumental in keeping the Crystal Cove Historic District alive.
In 1999, she helped form the Alliance to Rescue Crystal Cove, later renamed the Crystal Cove Alliance, a nonproflt association working with California State Parks to restore the beach cottages.
Her initial goal was to block the swanky resort originally planned for the area. After a lengthy public protest, ideas for the cove's future changed to having no plan at all, to a plan with no money, to a plan with funding, and, finally, to the current restoration project, which can make tears well up in Davick's eyes.
"To see what I've been working on for the last flve years come to fruition is amazing," she said. "It's a dream come true."
Crystal Cove Historic District's $8.6-million renovation project is underway. Restoration, which will be done in two phases, began March 8.
The first phase, involving 22 of the 46 cottages, should be complete by March 2005 and open to renters the following summer, said Crystal Cove State Park Supt. Ken Kramer.
Individual bungalows will rent for $80 to $150 a night. Beds in bigger, dormitory-style cottages will rent for $20 to $30 a night, Kramer said.
The first phase also includes renovating the cultural and research centers.
Davick said the alliance is trying to raise funds for the second phase, which will restore the remaining cottages.
All parties involved said the buildings will look exactly as they did before restoration began, because of a desire to preserve the Bohemian-style appearance of the tiny enclave, which is nestled off Paciflc Coast Highway between Laguna Beach and Corona del Mar.
Joan Irvine Smith, whose family owned the Irvine Ranch and Crystal Cove before selling the property to the state in 1979, said preserving the historic site is key.
"It's a beautiful place," Smith said. "It has the vernacular architecture, which makes it absolutely unique.... It's the last little enclave of its kind on the California coast."
Continuing down the dirt path, Davick points out cottages that have special meaning to her. There's the Shake Shack, a hamburger joint on the hill where she worked as a teenager and made date shakes.
She swings by the visitor center, the first cottage built in the 1920s, when silent movies were often filmed on the beach. Francis Marion and Gary Cooper were two silent-film stars who used to hang around the area.
And the most important spot in Crystal Cove for Davick is Cottage 2. It was the third cottage built. It was her family's home. Davick lived in Cottage 2 from age 1 until she was 43, when she finally moved--a mile away to Corona del Mar--to make way for the restoration.
"From the moment I was born, I was here. As my friends say, 'Crystal Cove is in her DNA,' " Davick said.
Her parents' ashes are scattered off Crystal Cove's coast. She calls the restoratlon project--and knowing that her home will exist for other generations to enjoy--her legacy. "There's not a more perfect place that you can grow up in," she said. "I was one of the luckiest girls in the world."